welcome to halong bay vietnam
top rated destinations for vietnam holidays
introduction | hanoi | halong | sapa | hue | hoi an | nhatrang | saigon | the others
halong bay vietnam - most fascinating destination on earth
Tour Vietnam without visiting Halong Bay means you haven't been to Vietnam. Halong Bay Vietnam always go together when tourists talk about Vietnam vacation.
Halong Bay has twice been recognized as world natural heritage by UNESCO. The first time is for Halong bay's beauty landscapes. The second time is for Halong bay's geology formation. Magnificent Halong bay Vietnam is One of 7 must-visit places on the earth.
Stunning Halong Bay covers an area of 1553 sq km with her 3000 big and tiny islands rising from the emerald waters of the Tonkin Gulf. These tiny islands are dotted with beaches, caves and grottoes created by wind and waves. The about 280 million year old islands have sparsely forested slopes ringing with birdsongs. This magical landscape of limestone islands has made many tourists change their iternaries to stay longer. Halong bay tour highlights all Vietnam holidays.
Thanks to Halong Bay's diverse landscapes, we organise different kinds of Halong bay tours from luxury travel - leisure, sightseeing to kayaking through caves and many floating villages. If you are lucky, you have a chance to see wedding boats going to the bride village or coming back the groom village. We gaurantee to make your Vietnam holiday special and exceptional. Book Halong bay tours with us to make your memory last all your life.
daily halong bay tours
After 3 hours drive through scenic countrysides, you will check in onboard, start cruising and losing sense of time. It is worth flying thousand Kms to Vietnam to see amazing Halong Bay and fly back home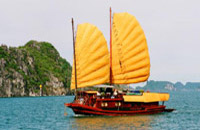 halong bay cruises in Vietnam luxury travel style
Coming to Vietnam without visiting Halong Bay means you have not been to Vietnam. Cruise Halong Bay Vietnam in luxury travel style just one time to remember all your life.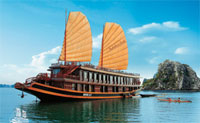 all vietnam cruises
daily tours in Vietnam
vietnam vacation guide
Vietnam tour packages
Vietnam trip guide