welcome to sapa vietnam
top rated destinations for vietnam vacations
introduction | hanoi | halong | sapa | hue | hoi an | nhatrang | saigon | the others
Why tour sapa vietnam?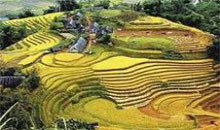 Probably, no other place in the world could compare to the spectacular scenery of Sapa Vietnam, the Qeen of the mountains, regally overlooking beautiful valleys , lofty mountains towering over the town all sides.
Sapa's incredbly beautiful scenery is mixed of rice paddy terrace fields, cottages on slop of mountains and valleys. Sapa's scenery in large part reflects the relationship between the minority people and nature. This is seen especially in the paddy fields carpeting the rolling lower slopes of the Hoang Lien Mountains. The impressive physical landscape has resulted from the work of the elements over thousands of years.
On a clear day, the imposing peak of Fan Si Pan comes into view. The last major peak in the Himalayan chain, Fan Si Pan offers a real challenge to even the keenest walker, the opportunity of staggering views, and a rare glimpse of some of the last remaining primary rain forest in Vietnam.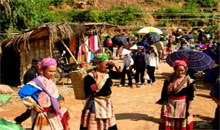 Besides luscious landscapes, Sapa Vietnam is the gateway to another world of mysterious minority cultures. Sapa is home to a great diversity of ethnic minority people who do not pay attention to how rich they are, the most important is how to enjoy their life. Most of them work their land on slopping terraces because almost of the land is mountainous.
Thanks to Sapa Vietnam's diverse landscapes, we organise different kinds of Sapa tours in the perfect combination of Vietnam luxury travel service and outdoor adventure like village tours, easy trekking, Fansifan mountain climbing or market tours like bac ha market
join sapa tours, remember vietnam holiday forever
all vietnam cruises
daily tours in Vietnam
vietnam vacation guide
Vietnam tour packages
Vietnam trip guide