Tours halong bay for amazing Vietnam trip
discover halong-natural wonder(2days/1night)
(tour code: HL - 05)
What are the benefits if one tours Halong Bay by Ginger cruise?
If you want to highlight your lifetime travel, you must tour Halong Bay by Ginger cruise. She was born with all the international standards of luxury 5 star hotels. Experience the best Vietnam trip with usBook it now
day 1: hanoi - halong bay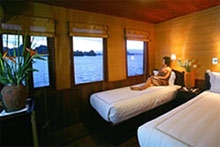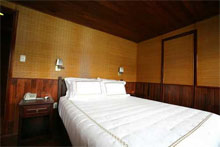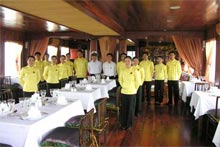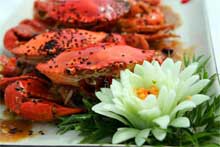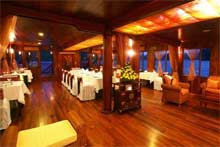 8:00 AM escape from Hanoi. You will arrive at 12: 00 noon, enjoy welcome drink and check in. Ms Ginger tours Halong Bay.
13:00 have great vietnamese traditional and international lunch while Ginger cruise tours Halong Bay through thousands of sculpted limestone islands rising from emerald waves like dragons' teeth. Halong's incredibly beautiful view and delicious food make you lose sense of time.
14: 45 Enjoy a short trek to a mountain for a panoramic view of the bay dotted with golden sails. Go swimming on a quite beach or sunbathing on sundeck. Later afternoon, visit an interesting fishing village with opportunity to interact with fishmen who have been living in the bay for almost three generations.
Back on board and enjoy cocktails while watching sunset and later enjoy great dinner
day 2: halong bay - hanoi
Start your Halong Bay tours with a visit to surprising cave area and Tai Chi class on sundeck for 30 minutes or relax onboard, see the sunrise over the bay.
8:00 Visit Surprising cave for highlight of Halong bay trip. Back to the boat. Freshen up and check out. Leave your heavy luggage outside of the cabins(staff will take care). 9:30 Enjoy breakfast - set menu or buffet. Settle bills in the dining room after breakfast.
Relax and enjoy the bay scenery as Ms Ginger tours Halong Bay. 11:00 Transfer by tender to the pier. drive back to your hotel. Your Halong Bay tour ends.
Included:
2 way A/C transportation
Welcome drink
Accommodation(single/double/twin)
Entrance and sightseeing fees
Great Vietnamese and International food as the programme
Taxes
Excluded:
Daily expense
Drinks
Kayaking if not included
Tips & gratuity to crews, drive and guides
Personal travel & medical insurance
Other things not included in the programme
Note:Halong bay tours' itinerary may be subject to change without prior notice.
Ginger cruise tours Halong Bay in Vietnam luxury travel style creating wonderful Vietnam holidays. Book it now Back to see: ginger cruise's features
2day Halong bay tour
Prices quoted in USD nett per person
Cabin
Based on twin share
private car/van/bus
2 Persons
1 Person/sgl room
Ginger room
194
upon request
upon request
Deluxe
215
upon request
upon request
halong bay cruises in Vietnam luxury travel style
all vietnam cruises
daily tours in Vietnam
vietnam vacation guide
Vietnam tour packages
Vietnam trip guide