halong bay tours highlight all vietnam holidays
discover paradise on earth by reddragon cruise
(3days/2nights, Code: HL-25)
Why does Halong Bay tour highlight all Vietnam holiday packages?
When tourists holiday Vietnam without touring Halong Bay, This means they haven't been to Vietnam. This sounds very important. Actually, this place is always first marked when tourists plan Vietnam holidays. This can be proven through the postcards and photos on internet. However, you will be extremely surprised at what you see there in comparison with the photos on internet. It has been on the top of voting lists for the 7 natural wonders of the world for a long time. Book now to remember Vietnam holidays all your lifetime. Last minute deals for Halong tours. Book it now
day 1: hanoi - halong bay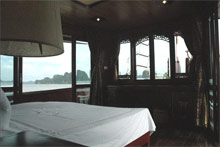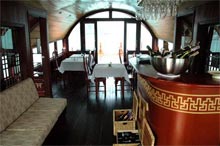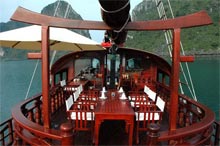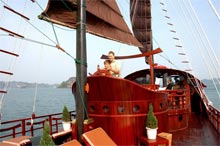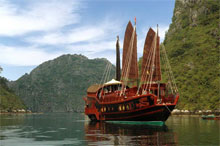 7:50 AM departure to Halong Bay. Arrive in Hongai town about 12: 00 noon after 3hour driving through large rice fields of the Red River delta. Enjoy Welcome drink and check in at one of luxury Halong bay cruises. Now, it is time for you to experience the highlight of Vietnam holidays.
You will be more and more surprised at its incredibly beautiful scenery. Cruising Bai Tu Long, an uncharted bay in HaLong through hundreds of naturally sculpted limestone islands rising from the emerald water offers a chance to get "off the beaten track". 15:30 Visit Thien Canh Son cave. Then, swim and kayak around the heaven scenery.
19:30 Enjoy delicious dinner. If you want, join squid fishing with our crew. Today ends with amazing experience on Halong Bay tours, the King of all Vietnam holidays.
day2: stunning scenery highlights vietnam holidays
Relax onboard and see the sunrise over the bay. 7:30 Have breakfast. 8:00 Start your Halong bay tour by cruising further inside Bai Tu Long bay. 12:30 Enjoy fresh seafood prepared by your own chef.
13.30 Continue your Halong tour by discovering Ho Ba Ham Islet, the most remote point in Lan Ha Bay. Visit a fishing village and lagoon. Kayaking through an amazing tunnel under a karst mountain is possible. 17.00 Cruise to Ho Dong Tien area for overnight anchor.
19:30 Enjoy dinner. Join squid fishing with our crew. 23:00 The second day ends with full understanding why join Halong Bay tours on Vietnam vacations.
day 3: halong bay - hanoi
Tour Halong bay to Vung Vieng floating fishing village. Take a seat on a rowed boat to discover the daily activities of the fishermen. Back to your boat and continue cruising through untouched areas. 10:30 Have lunch.
11:15 Transfer by tender to the pier and drive back to Hanoi at 15:30. The end of Halong bay tours.
Note: Halong bay tours' itinerary may be subject to change without prior notice.
Join Halong bay tours by Red Dragon cruise, remember Vietnam holidays all your life. Last minute deals for 3day Halong bay tour. Book it now Back to see: reddragon cruises' features
3day Halong bay tour by Red Dragon cruises
Prices quoted in USD nett per person(3days/2nights).
Cabin
Charter
Seat in coach
2 Persons
3 Persons
4 Persons
Superior
920
670
520
On Request
halong bay tours by red dragon cruises:
+ Option 2: discover the secrets of natural wonder(4days/3nights)(private only)
+ Option 3: explore jewels of vietnam halong bay(2days/1night)
halong bay cruises in Vietnam luxury travel style
all vietnam cruises
daily tours in Vietnam
vietnam vacation guide
Vietnam tour packages
Vietnam trip guide