halong bay tours highlight vietnam trip
discover the secrets of natural wonder
(4 day cruise/ Code: HL-13)
How are Halong Bay tours the best of Vietnam trip?
Planning Vietnam tour without Halong Bay tour means wasting your time and money. Halong Bay is the King attraction of not only Vietnam vacation but also Asia vacations. Actually, nothing could compare to the magical, mystical landscape of 3000 naturally sculpted limestone islands on an area of 1553 sq km. That is Halong Bay. The words: Halong Bay and Vietnam are always joined together when tourists plan their Vietnam trips or Asia trips. Join Halong bay tours, the best of Vietnam vacations. Book it now
day 1: hanoi - halong bay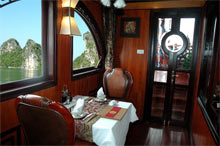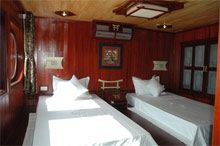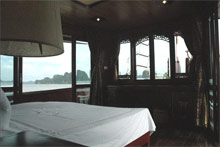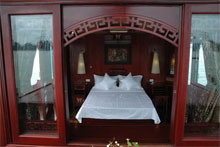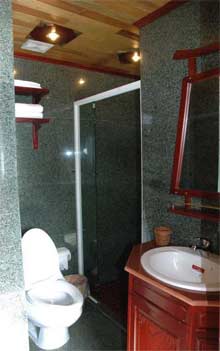 After 4hour drive including short break for refreshment, enjoy Welcome drink and check in Halong bay cruise, highlight of Vietnam luxury travel. Now, it is time for you to discover the best Vietnam trip.
Probably, you will lose all sense of time just because of spectacular scenery and delicious food. Cruising Bai Tu Long, an uncharted bay in Halong, through so many differently shaped limestone islands rising from emerald water offers a chance to get "off the beaten track". 15:30 visit beautiful cave. Then swim and kayak around the heaven for 50 minutes.
19:30 Enjoy great dinner. Join squid fishing with our crew on board. 23:00 The first day of Halong bay tours end with surprising experience.
day2: the highlight of vietnam trip
7:30 Have breakfast. 8:00 Begin your Halong bay tour to remote areas. The exact areas depend on the tide. 12:00 enjoy fresh seafood prepared by your own chef. 13.30 Continue to discover Ho Ba Ham Islet, the most remote point in Lan Ha Bay, bordering the Gulf of Tonkin.
Visit a fishing village. Join guided kayaking through an amazing tunnel under a karst mountain. 17.00 The boat cruises through the bay for overnight anchor near Ho Dong Tien.
19:30 Enjoy great dinner. If you like, join squid fishing with our crew on board. Now, you know why Halong Bay tours are the spirit of all Vietnam vacations.
day3: highlight of all halong bay tours
Relax onboard and see sunrise over Halong Bay. 7:00 have breakfast. 8:00 Start your Halong bay cruise through fascinating scenery to Cong Do & Vung Ha, the most remote areas of the bay. Kayak through strange limestone islands of different shapes or swim on private beaches
12:00 BBC lunch on a private beach makes your Vietnam vacation unforgettable. 13:45 Continue cruising around the Bay. Stop for anchor at 17:45. 19:30 Enjoy dinner. Great experience on Vietnam trip.
day 4: halong bay - hanoi
Start your Halong bay tour to Vung Vieng floating fishing village. Take a seat on a boat rowed by a local girl to discover the daily life of the fishermen. Back to your Halong bay cruise and continue halong tour through untouched areas. 10:30 have lunch.
11:15 It is time to say good bye to Halong Bay. Drive back to Hanoi at 15:40. Now, you have fully understood why Halong Bay tour is the best of Vietnam trip.
Note: Halong bay tours' programme may be subject to change without prior notice.
Vietnam trip in luxury travel style by Prince cruises just one time to remember Vietnam vacations all your life. If not fully satisfied with Halong tours, guarantee money back. Book it now Back to see: prince cruises' features
4day Halong bay tour by Prince cruises
Prices quoted in USD nett per person(4 day cruise).
Cabin
Based on twin share
private car/van/bus
P/Person
1 Person/sgl room
1 cabin charter
upon request
upon request
upon request
halong bay tours by prince cruises:
+ Option 2: Explore halong & bai tu long - natural wonder(2days/1nights)
+ Option 3: discover paradise on earth(3days/2nights)
halong bay cruises in Vietnam luxury travel style
all vietnam cruises
daily tours in Vietnam
vietnam vacation guide
Vietnam tour packages
Vietnam trip guide