best of mekong river cruises highlight vietnam holidays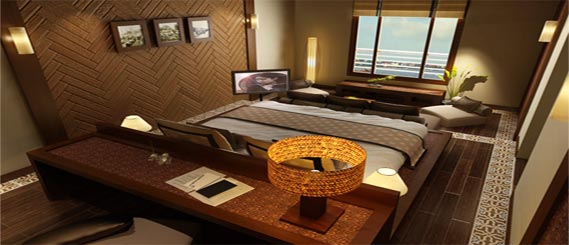 rV la marguerite - top of luxury mekong river cruises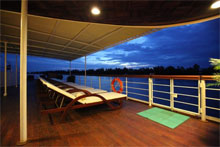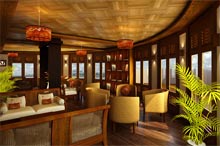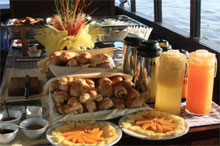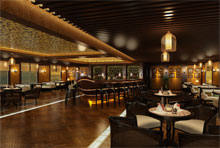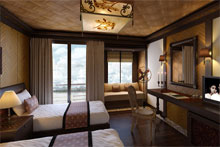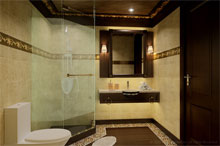 The best of luxury Mekong river cruises - RV La Marguerite description:
RV La Marguerite cruise, Built in Vietnam in July 2009, has 46 luxury AC rooms. She specializes in Mekong river cruising between Saigon and Siem Reap in Vietnam luxury travel style. Best gourmet dining experiences add sparks to your personal journey while its carefully researched excursions to cultural destinations allows for passion revival.
The best of luxury Mekong river cruises guarantees amazing Mekong discovery, luxury comfort and unforgettable experience and highlights Vietnam holidays as well.
Top of luxury Mekong river cruises - RV La Marguerite Features:
Interior Design: Boutique.
76.6m long, 12.5m wide, 1.8m deep
Air Draft: 9.65m.
Engines: 2 x 700 h/p (Yanmar).
Generator: 2 x 320 Kva Cat (USA).
Incredibly elegant dining room and cozy bar.
Large sundeck with comfortable lounging furniture.
Navigation: Can operate by night and in bad weather.
Library, gym and spa.
The rate: Elegant, luxurious like 5 star hotels on land.
The rooms: RV la marguerite - top of luxury mekong river cruises gruarantees to satisfy the most demanding tourists. The cruise highlights Vietnam tours.
Room amenities: Luxury like 5 star hotels.
Stateroom - 21m2 (226ft2). Sadec Suite - 27m2 (290ft2). Indochina Suite - 42m2 (452ft2).
Minibar.
Wardrobe.
writing desk, sofa.
in-house telephone.
in-house television.
Slippers.
Hair dryer.
Bathrobe.
Private Bathroom with hot shower.
Smoke detecor.
Life vests.
Fire Extinguisher .
Power standard: 220V, 50Hz - 24 hours a day.
Individual air conditioner remote control.
Food & drink: Great beyond your expectation
Best Vietnamese cuisine including fresh local seafood & international choises. The food satisfies both your eyes & stomach beyond your expectation.
Multi-choises from soft drinks to high-grade kinds of wine.
Staff service: Friendly and delicated
Very well trained staff.
English & french spoken by staff.
Room service 24 hours.
24 hours - sercurity.
Most importantly, they are so friendly, hospitable & willing to work.
What to bring:
Passport with valid visa to Vietnam.
Camera or video camera.
Sun glasses with hat.
Personal medicines.
note:
Boarding time 12:30 pm.
Disembark time 11:00 AM.
Visa, Master Card, American Express are accepted.
Discover the secrets of Mekong delta with RV La Marguerite - top of luxury Mekong river cruises, remember Vietnam holidays forever. The trips focus on luxury travel style. If not fully satisfied, you will have money back: Book it now
mekong river tours for exceptional vietnam holidays
top luxury collection of mekong river cruises
all vietnam cruises
daily tours in Vietnam
vietnam vacation guide
Vietnam tour packages
Vietnam trip guide