hanoi trip highlights all vietnam holidays
discover the hidden charm of vietnam
(7days/6nights)
Highlights of Hanoi trip - top places to go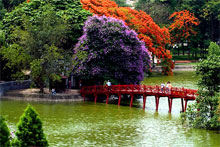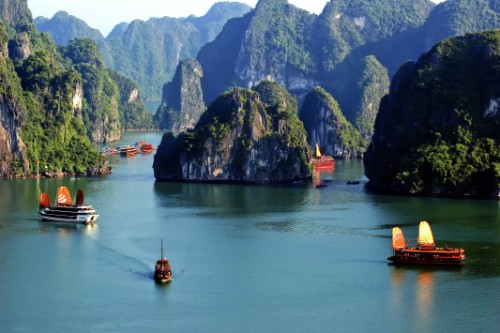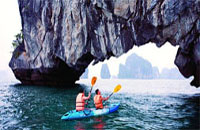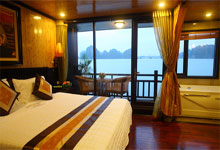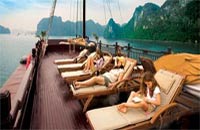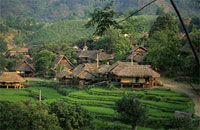 Suporior:
Hanoi hotel: Galaxy, Thanglong
Maichau hotel: Maichau lodge - superior
Halong bay cruise Baitho - superior
Deluxe:
Hanoi hotel: Sunway
Maichau hotel: Maichau lodge - superior
Halong bay cruises: Emotion - deluxe
Luxury:
Hanoi hotel: Movenpick, Intercontinental
Maichau hotel: Maichau lodge - suite
Halong bay cruise: Indochina, Victory star - deluxe
Best of luxury:
Hanoi hotel: Sofitel Metrople(grand luxury)
Maichau hotel: Maichau lodge - suite
Halong bay cruise: Indochina, Victory star - suite
+ Halong Bay : Amazing, fascinating, stunning........ Words could not discribe the scenery of Halong Bay, twice recognized as the world's natural heritage by UNESCO. Halong with 1553 sq km and 3000 big, tiny islands rising from the emerald waters is One of 7 must-visit places on the earth. Halong bay tour in Vietnam luxury travel style highlights all Vietnam tour packages. This is enough to invite you to join Hanoi trip.
+ Mai Chau is home to a great diversity of ethnic minority people who do not pay attention to how rich they are, the most important is how to enjoy their life. The strong family relationship is the typical feature of the groups. Here you can visit most family with 3 or 4 generations living together . This is the second reason to join Hanoi trip.
+ Hanoi: Hanoi has already eaten many hight mountains of paper and sea of ink from famous poem writers, song composers just because of its charming beauty. Before leaving Hanoi city, most foriegners have the same feeling that their Hanoi trip should be longer. Surely, join Hanoi trip - best of Vietnam luxury tours, remembet Vietnam holidays your life.
day 1: hanoi arrival
The guide of Luxury Vietnam Vacation will welcome you at the airport and transfer to your hotel. Free at leisure.
day 2: discover charming hanoi(B, -, -)
8:30 your Hanoi trip starts by visiting the Temple of Literature, Tran Quoc pagoda. Then, walk around peaceful, romantic Hoan Kiem lake. Then take a cycling tour around the French and old quarters, highlight of Vietnam trip
Visit Ho Chi Minh Mausoleum(close on Monday and Friday), his House on Stilts, the One Pillar Pagoda. Enjoy water puppet show, best of Hanoi tourism.
day 3: hanoi - halong bay(B, L, D)
8:00 Say goodbye to the charming city and go to Halong Bay. Enjoy many chance to take beautiful photos along the way. On arrival, embark a luxury Halong bay cruise and enjoy Welcome drink. You are ready to discover Halong bay, the highlight of all Vietnam tour packages.
Great Vietnamese lunch is served while the junk is cruising Halong Bay through many naturally sculpted limestone islands rising amazingly one after one from water. Halong's incredibly beautiful scenery and delicious food make you leave the world behide.
15:00 Experience a floating village, see daily life of local fishermem. Visit surprising cave, another great stop during Halong bay tour. 17:00 continue to cruise Halong bay to Loun cave. Swimming or relaxing on your Halong bay cruise and see the sunset( kayaking is optional). 18.30: Anchor in secluded lagoon for overnight. 19:30 enjoy delicous Vietnamese dinner. Today will mark the highlight of all Vietnam holiday packages and your lifetime travel.
day 4: halong bay - hanoi (B, L, -)
Mix yourself with nature under the sunrise over Halong Bay. 8:00 Start your Halong bay tours by Climbing 330 steps on the top for great photoes or swimming at Titop island.
9:00 Back to your Halong bay cruise. Freshen up and check out. 10:00 Enjoy buffet brunch while cruising through many limestone islands of different shapes.
11:00 Drive back to Hanoi with the feeling - Halong bay tours are King of all Vietnam vacations
day 5: hanoi - mai chau(B, L, -)
Today your Vietnam holiday starts at 8:30 with 2.5hour drive through beautiful countryside. 12:00 have lunch.
After lunch, visit Poom Cong, Lac, Chieng Chau villages where white Thai people live. Visit their stilt houses where 3 generations live together. You can talk to them through your guide, discover their daily life. Now, we think you will recommend Hanoi trip to your friends.
day 6: mai chau - hanoi(B, L, -)
After breakfast, continue to discover local market, peaceful and beautiful valley with very large rice paddy fields. The incredibly stunning scenery offers many photoes. 12:00 Drive back to see Giang Mo village of Muong minority group. It is time you look back the photoes of the Hanoi trip.
day 7: hanoi departure(B, -, -)
Free until transfer to airport. Now, your Vietnam holidays ends.
Join Hanoi trip, one of the best for Vietnam package tours, for great Vietnam holidays: Book it now
Discover the hidden charm of Vietnam
Prices quoted in USD nett per person
Class
1 Person
2 Persons
3 - 6 Persons
Sgl supp
Hotel
Superior
1480
870
813
235
superior
Deluxe
1,615
635
927
269
superior
Luxury
2,214
1224
1,160
490
deluxe
Best of Luxury 5star
2,800
1,610
1,550
679
Grand, deluxe
Tour Excluded:
+ Daily expense
+ No drinks
+ Tips & gratuity to drive and guides
+ Personal travel & medical insurance
+ Other things not included in the programme
Included:
+ Private A/C luxury car/van/bus
+ Accommodation: twin-share
+ Entrance and sightseeing fees
+ English or French speaking guide
+ Great Vietnamese food as programme
(B - breakfast, L - lunch, D - dinner)
+ Taxes
Vietnam package tours
Vietnam holiday guide
all vietnam cruises
daily tours in Vietnam
vietnam vacation guide
Vietnam tour packages
Vietnam trip guide