unforgettable experience on indochina tours
hidden charm of indochina travel
Trip overview:
Travel Indochina, book the best of the best Indochina tours with all charming destinations and UNESCO World heritage sites: Charming Hanoi, amazing Halong Bay(the top natural wonder of the world), stunning Sapa, romantic Hue, enchanting Hoian, mysterious My Son, exciting markets and villages of Mekong river and wonderful Angkor Wat. Tour Vietnam and Cambodia, book this tour, remember Indochina forever. Limited offers for the best of the best Indochina tours. Book it now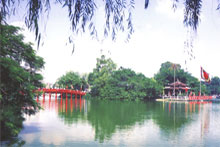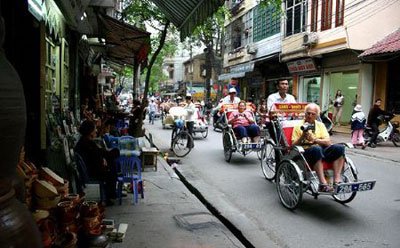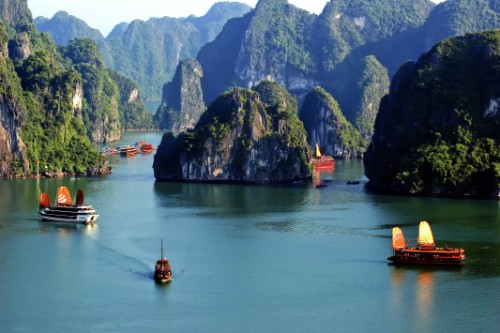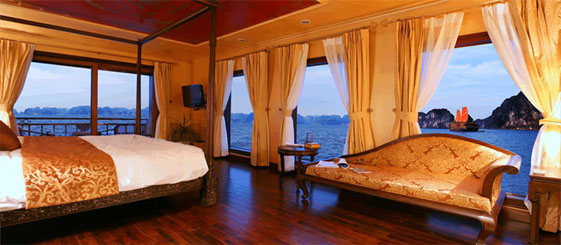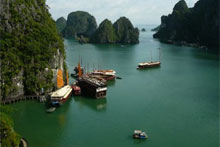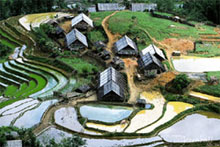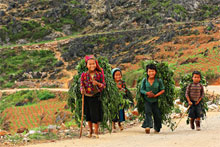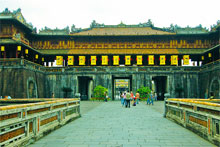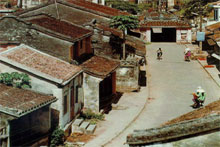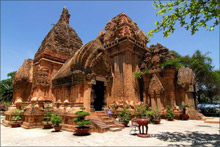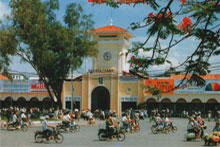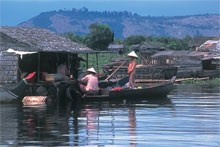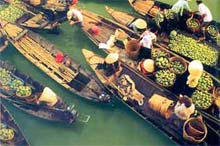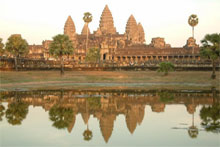 Luxury travel style:
Siemriep hotel:Sofitel Royal Ankor - superior
Saigon hotel:Sofitel Plaza - superior
Cantho hotel: Victoria - superior
Nhatrang hotel: - superior
Best of luxury travel:
Siemriep hotel:Sofitel Royal Ankor - superior
Saigon hotel: Park Hyatt Saigon - Park Room
Cantho hotel: Tonle room
Nhatrang hotel: Amansara hotel - suite
Day 1: Hanoi Arrival (Meals : N/A)
On arrival, our guide of Luxury Vietnam Vacation picks up you and transfer to your hotel for overnight.
day 2: discover old charming hanoi
Start your Vietnam holiday with the top attractions of Vietnam's thousand year old capital: Ho Chi Minh Mausoleum, the presidental palace in old botanic garden and his stilt house. Then, admire the unique architecture of one Pillar Pagoda(built 1049) and charming Temple of Literature(First University built in 1070 AD).
Enjoy walking around amazing old quarters known as 36 exciting commercial streets and the unique traditional water puppetry show(only performed in water - highlight of all Vietnam holidays in term of culture). Overnight in Hanoi(Meals: B)
Day 3: discover amazing Halong Bay, the spirit of Vietnam trip
Tour Vietnam, discover spectacular Halong Bay, the King attraction of Vietnam vacation, for the greatest enjoyment in your life.
You will never forget the priceless picture of 3,000 limestone islands with unfinished sculptures rising from the emerald water. Furthermore, you will be imprissived by the hidden grotto under the cliff of forested limestone mountain. Overnight on one of luxury Halong bay Cruises. Definitely, unforgettable experience on travel Indochina(Meals: B/L/D)
Day 4: Halong Bay - sapa
Enjoy morning tea and coffee before visiting Luon Cave by a sampan. Have brunch during your cruise back to Halong city. Check out. GREAT GREAT GREAT are the words you want to say for both stunning scencery and luxury comfort of Halong bay cruises. Transfer to Hanoi for an overnight train to Sapa(Meals: Brunch).
Day 5: fascinating Sapa highlights all vietnam holiday packages
On arrival at Laocai station, drive to amazing Sapa. It is home to 7 colourful ethnic minorities in very basic living conditions. What makes you more surprised is the stunning Valleys with green terraced paddies and their cottages on the top or slopes of the mountain. Today, experience Cat Cat village(Meals: B)
Day 6: stunning natural beauty on Vietnam holidays
Your walking to Lao Chai and Ta Van villages of Black H'mong and Dzay ethnic minorities offers breath-taking landscapes of terraced green paddies valleys. It is great to chat with friendly local people and see them working on the field. Overnight in Sapa(Meals: B)
Day 7: experience the simplest but wisest way of living
Experience one of the most interesting markets of Vietnam package tours(Bac Ha, Cancau, Coc ly, Caoson). Oh... simple ways of life. No matter rich or poor, they all work and wait a whole week for the market day. You find them in the best colourful clothes eating, drinking and chatting happily together at the market. It is also a place where boys and girls find their lifetime partners. Drive back to Lao Cai station. Overnight on the train(Meals: B)
Day 8: hanoi - Hue
Arrive in Hanoi. Drive to the airport for the flight to Hue - one of UNESCO World Heritage Site, a key destination for all Vietnam holiday packages. Experience the romantic capital of Vietnam under the Nguyen Dynasty(1802-1945), very well known for citadels, palaces, royal tombs, pagodas and temples. Visit the Imperial Citadel with Forbidden Royal City like in Beijing. Free shopping in Dong Ba market. Overnight in Hue(Meals: B)
Day 9: Hue - Danang - Hoi An
Start your tour in Vietnam with a morning visit to Thien Mu pagoda and the mausoleum of the king Tu Duc. Then, drive to Hoi An over Hai Van Pass with the magnificent view of the China beach. Visit the fascinating Marble Mountains and drive to charming Hoi An, known as Faifo and major international ports in South East Asia to early Western traders. You can find its special old-world retainings(Meals: B)
Day 10: Enchanting hoian and mysterious my son
Start your trip in Vietnam with walking tour around this enchanting town with centuries-old houses influenced by Chinese, Japanese and European architectures. See the 400-year old Japanese Covered Bridge, the Phuc Kien Assembly Halls and some ancient houses with many famous tailor shops. Afternoon, Visit My Son, the sacred land of Cham people from 3rd century to 13th centure offering you a chance to see a mysterious construction technique which could not be explained by all scientists. One destination with 2 UNESCO Culture Heritage Sites creates wonderful Vietnam holidays(Meals: B)
Day 11: Hoi An - Saigon (Meals : B)
Transfer to Danang airport to fly to Ho Chi Minh City. On arrival, transfer to your hotel for refreshment. Then, visit highlights of Saigon city: Notre Dame Catholic Cathedral, French built Post Office nearby, and the Reunification Palace(the Presidential Palace formerly governed by the Republic of Vietnam's the US-pro government). Visit the War Remnants Museum. Overnight in Saigon
Day 12: fascinating Mekong Delta highlights all Vietnam tours
Embark on a luxury boat and cruise amazing Mekong River. Experience their unbelievable way of living and the most bustling floating market - Caibe with thousands of boats carrying local farm products for sales. overnight onbroad(Meals: B/L/D)
Day 13: unique experience on floating life
Join a traditional sampan cruising along small canals from Vinh Long to Sad Dec. Visit local market. Explore the daily rural life of people with stops at palm tree leave weaving, traditional wooden boat factories and fruit orchard gardens. Really different world. Overnight onboard(Meals: B,L,D)
Day 14: tan chau – phnom penh
Continue your travel Indochina from Sadec to Tan Chau, a remote small town on the main Mekong River. At 8:30, join small boats to visit a floating fish farm and navigate along the tiny tribunals where stilt houses are haphazardly leaning on one another. Visit traditional silk, rattan mats and slippers making factories on land(Meals: B,L,D)
Day 15: see charming phnom penh
Visit Phnom Penh highlights: the Royal Palace, Silver Pagoda and National Museum. At 12:00 return to the boat for a re-energizing power lunch.Continue your travel Indochina by visiting the Killing Fields and Tuol Sleng (S21) detention center. Shopping is optional. After delicious dinner, enjoy a special Cambodian performance at the Saigon Lounge from 21:00 to 22:00(Meals: B,L,D)
Day 16: Phnom Penh – Kampong Cham
Visit Chong Koh Village with a Silk Weaving Factory. Then, cruise towards Peam Chi Kang to explore its Village, the Wat/Monastry and its schools. Depart for Kampong Cham at 17:45. Today ends with another wonderful themed dinner(Meals: B,L,D)
Day 17: Kampong Cham – Phnom Penh
Explor charming Wat Hanchey, a hilltop pagoda overlooking the Mekong. Arrive at Kampong Cham. Go ashore from 14:30 to 18:00. Visit 12th century Angkorian temple of Wat Nokor and Eco village and mix yourselves with the evergreen forest of Ceylon ironwood, rosewood, bean trees, teak, and rubber trees(Meals: B,L,D)
Day 18: Phnom Penh – Kampong Chhnang
Enjoy a amazing river cruise through the floating houses to get a glimpse of the local lifestyles in the Tonle Sap River. Then, go ashore for an easy walk through the city and see a local market. At 12:30 return to the boat for lunch . At 16:00 to 17:00, have a cultural forum on Cambodia abroad. Farewell dinner & cocktail from 19:30 to 21:00. Overnight in the middle of Tonle Sap Lake(Meals: B,L,D)
Day 19: Kampong Chhnang - Siem Reap
Arrive in Siem Reap at about 10:30. Our guide will meet you there and transfer to your hotel for check in. Visit the ancient capital of Angkor Thom (12th century). See the South Gate, Bayon Temple (unique for its 54 towers decorated with over 200 smiling faces of Avolokitesvara), the Royal Enclosure, Phimeanakas, the Elephant Terrace and the Terrace of the Leper King. visit the most famous of all the temples on the Angkor plain: Angkor Wat(Meals: B)
Day 20: discover Siem Reap
Discover Prasat Kravan with the unique brick sculptures), Srah Srang - The Royal Boths was once used for ritual bathing, Banteay Kdei with four concentric walls, Eastern Mebon (guarded at its corner by stone figures of harnessed elephants, some of which are still in a reasonable state of preservation) and the "Mountain Temple" of Pre Rup until sunset. In the afternoon, transfer to the archaeological site and continue to the temple tour. Visit Ta Prohm, one of the most beautiful temples in the area. Ta Prohm has been left relatively untouched since it was discovered and retains much of its mystery. Then, visit Takeo, Thommanon and Chau Say Tevoda temples(Meals: B)
Day 21: Siem Reap departure(Meals: B)
Book the best of luxury Indochina tours on your travel Indochina, remember unique experience forever. If not fully satisfied with the trip, you will have money back. Limited offers. Book it now
Hidden charm of travel Indochina
Prices quoted in USD nett per person.
Class
2 Persons
3 - 6 Persons
8 - 12 Persons
Sgl supp
Luxury travel
5,694
On request
On request
N/A
Best of Luxury 5star
8,666
On request
On request
N/A
Tour Excluded:
+ Daily expense
+ No drinks
+ Tips & gratuity to drive and guides
+ Personal travel & medical insurance
+ Other things not included in the programme
Included:
+ Private A/C luxury car/van/bus
+ Accommodation: twin-share
+ Entrance and sightseeing fees
+ English or French speaking guide
+ Great Vietnamese food as the programme
+ Taxes
other indochina tours
Tips for Vietnam holiday packages
all vietnam cruises
daily tours in Vietnam
vietnam vacation guide
Vietnam tour packages
Vietnam trip guide