vietnam package tours for beach holidays
Recommended vietnam beach holidays
Geographically, Vietnam has 3260 km coastline facing South China Sea, a warm current sea. This offers Vietnam thousands of big and small beaches in peace, tranquillity and emerald water. Here are some of the best Vietnam package tours with the world's top luxury beach resorts which have recently been built to create amazing Vietnam beach holidays.
heaven on earth(14days/13nights)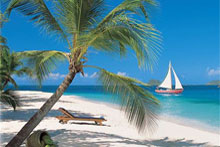 The trip is one of the best Vietnam package tours with all the top of Vietnam beaches: many private beaches in Amazing Halong Bay, one of the top natural wonders in the world. China beach Vietnam in Danang, Hoian beach and Nha Trang Bay with golden sand beaches. Book the best of Vietnam tour packages for the great time in your life. veiw detail of vietnam beach holidays
halong beach vacations(5days/4nights)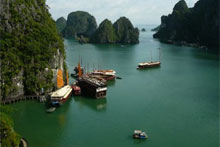 Halong Bay is the top destination for all Vietnam package tours. Many of 3000 islands are surrounded by private white sand beaches. Discover Halong bay with luxury Halong Bay cruises for the greatest moment in your lifetime. if you are not fully satisfied, get your money back. see details of special halong tour
beach holiday in danang(5days/4nights)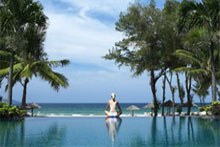 The white sandy beach in Danang is also called as China beach Vietnam. The blue and tranquil sea, the hot and humid climate with average temperature ranging between 79ºF and 93ºF during the day throughout much of the year make Danang become an ideal place for Vietnam beach holidays. see details of danang beach holiday
hoi an beach holiday(5days/4nights)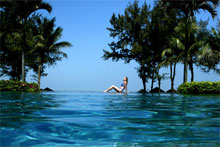 Hoian is famous for two UNESCO heritage sites and a wonderful beach with white sand, clear and blue water, moderate slopes and small waves. The beach is only 4km from Hoi An ancient town and only 60 km from mysterious My Son. Hoian offers the finest combination of culture and relax tours and is one must-see destination of Vietnam package tours. see details of the beach vacation
nha trang beach holiday(5days/4nights)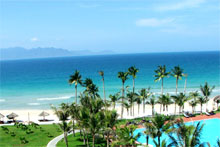 Nha Trang, officially recognised as one of the 29 most beautiful bays in the world, is a popular beach destination for visitors to Vietnam. White sand, clear and emerald water, moderate slopes and small waves make Nha Trang beach become a home to some of the top beach resorts in the world. Limited offers for the best of Vietnam package tours.
mui ne - luxury beach Holidays(5days/4nights)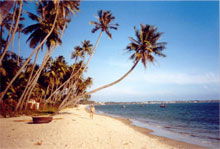 Spend some days on Mui Ne beach when booking any of Vietnam package tours. Mui Ne, a former fishing community, is now a increasingly popular beach destination with dozens of luxury hotels and elegant resorts. It offers a truly unique beachside experience with stunning scenery and breathtaking sunsets over a tropical haven of coconut trees. view details of the best vietnam beach holiday
amazing mui ne - 3 day vacation packages(3days/2nights)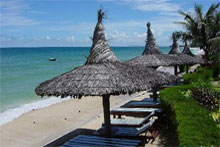 After driving 200 km from Saigon city, you will get to Mui Ne. Here, you will experience truly unique beachsides with fascinating views and breathtaking sunsets over a tropical haven of coconut trees. Beside this, you also have chances to play golf or take amazing photos. see details of the best vietnam beach vacation
amazing beach vacation in vietnam(5days/4nights)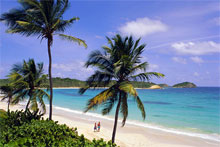 Phu Quoc, the largest island in Vietnam, is well known for some of Vietnam's most beautiful white sandy beaches, turquoise sea and abundant marine life, as well as forested mountains and outlying islets. see details of amazing beach vacation
Tips for Vietnam tour packages
all vietnam cruises
daily tours in Vietnam
vietnam vacation guide
Vietnam tour packages
Vietnam trip guide