hanoi tours make your vietnam vacation unbelievable
Why join Hanoi tours?
Hanoi tour offers the finest mixture of discovering city life and fascinatingly natural landscapes and mysterious minority cultures like Hanoi city, fascinating Halong bay, Tam Coc, Mai Chau, Sapa..... Join Hanoi travel for great Vietnam vacations. See the best selling Hanoi tours
1day halong bay tour highlights hanoi tours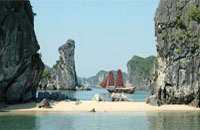 Just one day is enough for you to discover the most beautiful area of fascinating Halong bay, twice voted as UNESCO Nature Heritage Site. Join Halong tour for the highlight of all Vietnam holidays. For more information on Halong bay tour, Please see: full day halong bay tour
1day hanoi city tour - best of Hanoi travel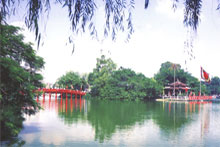 Only one day to discover the old, charming capital of Vietnam with all top destinations like old quarter, cycling tour, water puppet show, the temple of literature, unique one pillar pagoda and Ho Chi Minh complex. Join Hanoi tour for amazing Vietnam vacation. For more information, Please see:
tamcoc - bich dong(1day) - must-see destination of Hanoi tours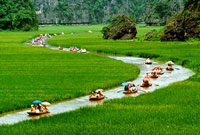 About 2 hour and 15 minute drive south of Hanoi, you will arrive at Tamcoc, one of the most beautiful destinations for Hanoi tourism and Vietnam trip. It is also called Halong bay on land. Join this tour for a great Vietnam vacation.
For more information, Please view the details: tamcoc - highlight of vietnam vacation
halong bay tour(2day/1night) - bestselling of hanoi tourism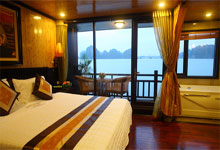 Halong bay is the top destination for all Vietnam holiday packages. Only 2day Halong bay tour makes you more and more surprised at hundreds of naturally sculptured limestone islands coming up majestically from green sea water. Halong tours have set up the new version of Vietnam luxury travel.
For more information on Halong bay tours, Please see: 2day halong tour
cuc phuong national park(1day tour) - Hanoi tourism in adventure style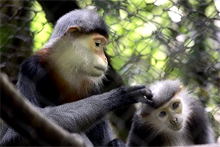 The oldest national park in Vietnam is considered as the most interesting museum of rarest species in Asia. This is one of the best places for Hanoi tourism in adventure style. For more details: cuc phuong adventure tour
perfume pagoda(1day) - a good choice for hanoi travel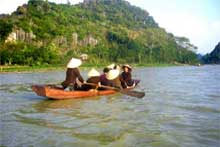 After 65 km drive southwest of Hanoi, you get to Yen - a peaceful river. Take a rowing sampan to the complex of buddhism pagodas located in beautiful nature. See, feel and touch to find out the secret links between the buddhism and nature. For more information, Please see the details: perfume pagoda - good choice for Hanoi tour
maichau - a must-visit destination for Hanoi tours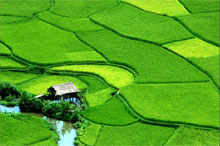 A peaceful and charming valley surrounded green rice fields, rivers, majestical limestone mountains and the beautiful stilt houses of the white Thai group offers different kinds of tours from adventure to culture. This is one of good choice for your Hanoi holiday.
traditional villages - one great choices for vietnam holidays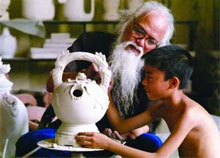 Vietnamese handicraft products are so beautiful and artistic. They are important hand-made gifts for most tourists on Hanoi travel. A tour to traditional villages to see how they are made is great experience. View details: handicraft tour
vietnam package tours
Hanoi city is a must-visit destination for your Vietnam vacation. It offers you with different interests from history, culture to luxury travel and leisure with fascinating destinations in Vietnam like Halong bay, Tam Coc, Sapa, Maichau.... Join Hanoi stop-over tours for the highlight of your lifetime travel.
all vietnam cruises
daily tours in Vietnam
vietnam vacation guide
Vietnam tour packages
Vietnam trip guide