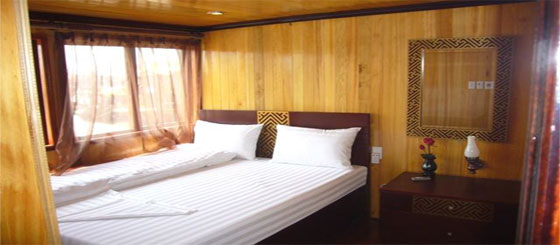 Why cruise Halong bay by Baitho group?
Cruise halong bay in unique style for amazing discovery and unforgettable experience. All deluxe comfortable rooms have private air conditioning, en suit bathrooms, soundproofed partitions and double glazing to protect the passengers' sleep from outside noise. Join Bai Tho Halong bay cruises for the best Halong bay tours .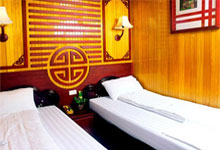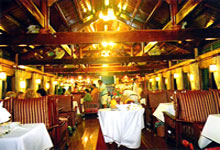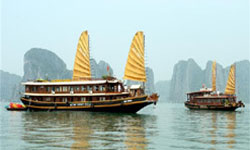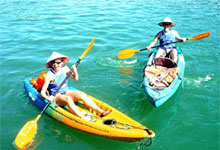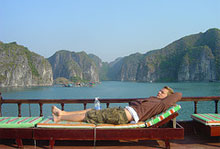 Bai tho cruise features: Elegant and comfortable
Royal traditional wooded Junks.
Bai tho cruise group has 13 overnight deluxe boats & 22 day trip boats.
Size: 27m long, 7.2m wide, 19m hight, 2.2m deep.
From 2 AC deluxe cabins to 18 Deluxe ones per boat.
Private en-suite Bathrooms.
Elegant dining room .
large sundeck with comfortable lounging furniture.
Tender boat for health Emergency cases.
The rate: Like 3+++ star hotels on land
Guarantee to bring you the great comfort and unforgettable experience on 3+++ star floating hotel.
Room amenities:
Wardrobe.
Slippers.
Hair dryer.
Hot water.
Smoke detecor.
Mineral water.
Life vests.
Fire Extinguisher .
Individual air conditioner remote control.
Ensuite bathroom.
Food & drink: Great beyond your expectation
Experience the best Vietnamese cuisine with multi-choises from soft drinks to high-grade kinds of wine. Sea food during Halong bay tours by Baitho highlights your Vietnam trip.
Staff service: Friendly and delicated
Well trained staff.
English spoken by staff.
24 hours - sercurity.
Halong bay cruise activities: Unforgettable experience
Cave explore by walking & Bamboo Row Boat.
Swimming, Kayaking.
Trekking.
beach relax.
Special events upon request:
Wedding.
Meeting & conference .
Party inside cave.
Beach party.
What to bring for Halong bay tours:
Passport with valid visa to Vietnam.
Camera or video camera.
Sun glasses with hat.
Swimming clothes.
Jackets in winter time.
Personal medicines.
Cruise Halong Bay in Bai Tho travel style for the highlights of Vietnam trip. The cruise guarantees to bring you luxury comfort and unforgettable experience on amazing Halong Bay - paradise on earth. If you are not fully satisfied with Halong bay tours, you will have money back: Limited offers for Halong tours by Bai Tho cruise
Halong bay tours by Bai Tho group
Best 3star halong bay cruises Reviews
all vietnam cruises
daily tours in Vietnam
vietnam vacation guide
Vietnam tour packages
Vietnam travel guide