collection of hanoi halong bay cruise rated 3star hotel
1. deluxe baitho - bestselling of hanoi halong bay cruises
Whatever your interest is, you can find your ideal Halong tours here from relax to adventure. Join Halong bay cruises for amazing Vietnam vacation. Limited offers for Hanoi Halong Bay tours.
2. huong hai specializes in halong bay cruises
14 overnight deluxe Halong bay cruises are made of Wooden with traditional wood carving decors from 5 AC deluxe cabins to 12 Deluxe ones per cruise and private en-suite Bathrooms. Limited offers for Halong cruise.
3. oriental sails - deluxe halong bay cruise
The 16 AC deluxe cabins of Wooden Halong cruise were designed in oriental style with private en-suite Bathrooms. It is 38m long, 8m wide, 9m high with oriental style dining room and cozy bar and a large sundeck with comfortable lounging furniture. Book Halong bay cruise for great experience.
4. White Dolphin is one of deluxe halong bay cruises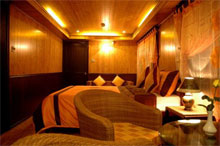 White Dolphin 94 & 95 With 2 AC luxury cabins - 25 sqm each with connecting door and 3 bay view panorama windows. White Dolphin 96 With 10 luxury AC cabins: 8 deluxe cabins - 15 sqm each, 2 Royal Suite cabins - 16 sqm each. Limited offers for Hanoi Halong Bay cruise.
5. Lagoon explorers - halong bay cruises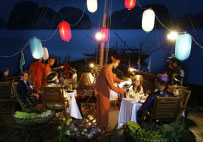 Wooden Halong cruises with oriental decoration style, incredibly elegant dining room, romatic sundeck and comfortable lounging furniture. Join Lagoon cruises to explore Halong bay off beaten track and enjoy wonderful taste of Vietnamese cooking art.
5. one day halong bay tour highlight vietnam holiday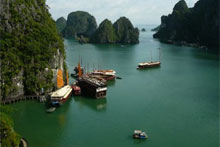 To satisfy those who do not enough time for the enjoyment of 2 or 3 day cruise tours, we also offer 1 day Halong Bay cruise. Limited offers for 1 day Hanoi Halong Bay cruise.
halong bay tours - rated as 4 - 5star hotels
all vietnam cruises
daily tours in Vietnam
vietnam vacation guide
Vietnam tour packages
Vietnam travel guide