3day halong bay tour highlights Vietnam tour packages
How does 3day Halong Bay tour highlight Vietnam tour packages?
The fascinating scenery of Halong Bay is what draws people to Vietnam. Twice voted as world natural heritage by UNESCO, Halong Bay continues to prove to be listed as one of the world's new 7 wonders. Join Halong bay tours for great Vietnam vacations. Commitment to Excellence, Excitement and Satisfaction. Book it now
discover halong - natural wonder(3days/2nights)
day 1: hanoi - halong bay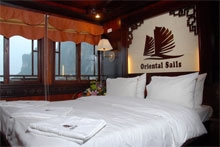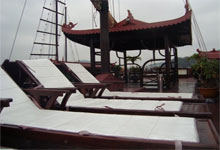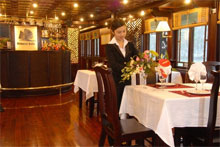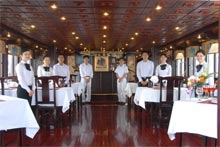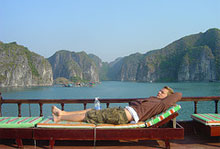 8:00 head to Halong bay. Enjoy welcome drink and check in Orietal Sails - one of deluxe Halong bay cruises. It is time to discover the best of Vietnam tour packages.
12:30 Start your Halong Bay tour through stunning scenery during your great lunch. 15:00 Visit surprising Cave. Then, continue to cruise Halong bay and enjoy swimming or kayaking is optional
19:30 Delicious dinner served at the restaurant. 23:00 end of the day, you have some experience why 3day Halong bay tour highlights Vietnam package tours.
day 2: highlight of halong bay tour
After breakfast, transfer to a day boat at 8:30 Am. Discover Lan Ha Bay. There are two options:
+ Option1 - Rock-climbing: 10:15 - 12:00 Rock-climbing on Moody's Beach(option kayaking). 13:00 – 14:00 Lunch and transfer to Thap Ngiem (Hai Pai Beach). 14:15 – 16:30 Rock-Climb on Hai Pai Beach(option kayaking).
+ Option2 - Relaxing & kayaking: Have the whole day relaxing on the beautiful beaches of Van Boi, Ba Cat, and leisure kayak around Lan Ha Bay.
16:30 – 17:00 Cruise back to the main boat. 19:00 Enjoy dinner. Overnight on board. Now, you have more experience why Halong bay tours are the best of Vietnam tour packages
day 3: halong bay - hanoi
Enjoy a moring call by birds' singing. Relax onboard, see the sunrise over the bay. Continue cruising Halong bay. 11:00 Drive back to Hanoi. Back to your hotel at 16:00. Your Halong bay tour ends.
Included:
2 way A/C transportation
Welcome drink
Accommodation(single/double/twin)
Entrance and sightseeing fees
Great Vietnamese and International food as the programme
Taxes
Excluded:
Daily expense
Drinks
Kayaking if not included
Tips & gratuity to crews, drive and guides
Personal travel & medical insurance
Other things not included in the programme
Note: Halong bay tour's itinerary is subject to change without prior notice.
The best of Vietnam tour packages delivered by Oriental Sails highlight your Vietnam vacations: Book it now Back to see: Oriental cruise's features
3day Halong bay tour by Oriental cruise
Prices quoted in USD nett per person
Cabin
Based on twin share
private car/van/bus
2 Persons
sgl room
2day Halong bay tour
139
on request
on request
3day Halong bay tour
315
on request
on request
Surcharge of 25% will be added for the cruises on December 24 & 31 and Lunar New Year Eve.
ha long bay cruises in Vietnam deluxe travel style
all vietnam cruises
daily tours in Vietnam
vietnam vacation guide
Vietnam tour packages
Vietnam trip guide