mekong tours - queen of all vietnam tours
The amazing Mekong tours offer a chance to explore endless water way of Mekong River in an luxury, relaxing and fulfilling style. Talk with people in different corners of the Mekong river from floating markets to floating villages. The luxury travel cruises for Mekong tours are like "elegant, boutique, floating hotels" and also great for Indochina tours between Saigon, Phnom Penh and Siem Reap. Mekong creates one of the best Vietnam tours.
1. amazing mekong tours by le cochinchine mekong cruise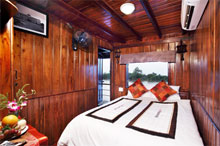 Book Mekong tours with luxury Le cochinchine Mekong cruise just one time to remember uniquely luxurious experience all your life. The luxury Mekong cruise guarantees to bring you luxury comfort and unforgettable experience on untouched lands.
2. bassac mekong cruises create exceptional mekong tours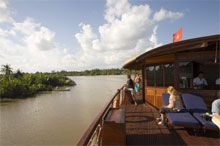 All three elegant wooden Bassac Mekong cruises have luxurious comfortable rooms with private air conditioning, en suit bathrooms, soundproofed partitions and double glazing to protect the passengers' sleep from outside noise.
3. rV la marguerite cruise highlights Vietnam luxury tours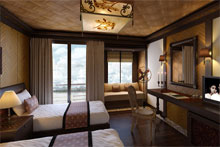 RV La Marguerite Mekong cruise, Built in Vietnam in July 2009, has 46 luxury AC rooms. She specializes in Mekong tours between Saigon, Phnom Penh and Siem Reap in luxury travel style.
The Mekong tours make you more and more surprised at differently untouched lands. Besides, best gourmet dining experiences add sparks to your personal journey. Definitely, the cruise is the highlight of Vietnam luxury travel.
4. fascinating mekong tours by rV pandaw mekong cruise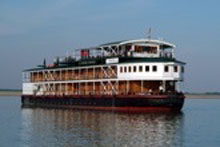 Many tourists describe life on the RV Pandaw Mekong travel cruise like being on a private motor yacht than a cruise ship.
Where you go and what you see is extremely intrepid. Where you stay is a floating base of discreet comfort, caring service and all the good things one looks for in life. Join one tine, remember forever.
note:
There are different routes for different Mekong cruises. Please read carefully to choose your ideal Mekong cruise. amazing experience on Mekong tours is waiting for you. They are one of the best Vietnam tours.
all vietnam cruises
daily tours in Vietnam
vietnam vacation guide
Vietnam tour packages
Vietnam trip guide