Why join 4day cruise tours in vietnam ?
When talking about the best tour in vietnam, Halong Bay tour is always first chosen. Majestic and mysterious, inspiring and imperious: words alone can not do justice to the UNESCO World Natural Heritage Site. That is Halong Bay. Join top of the best Vietnam tours for amazing Vietnam vacations. See details of 4day Halong tour by Princess cruises here:
Have a good trip!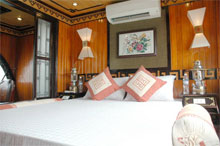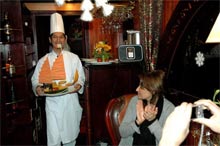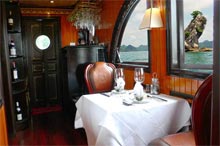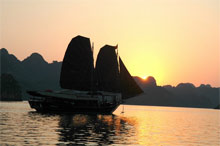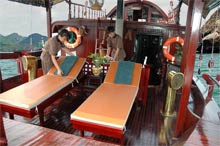 8:00 Head out to Halong Bay. On arrival, enjoy Welcome drink and check in one of luxury Halong Bay cruises - Princess. Now, it is time for you to discover the top of the best tours in Vietnam.
Cruising Bai Tu Long, an uncharted bay in Halong through hundreds of naturally sculpted limestone islands rising from emerald water offers a chance to get "off the beaten track". 15:30 Discover Thien Canh Son cave, then swim and kayak around the heaven scenery for 50 minutes.
19:30 Enjoy great sea food dinner. After dinner, join squid fishing with our crew on board. 23:00 The first day ends with great experience why Halong bay tours are the top of the best holidays in Vietnam(Meals: L/D)
8:30 your Halong bay tour starts by cruising further inside Bai Tu Long bay with a feeling that you get lost in a heaven - highlight for holiday Vietnam . 12:00 Enjoy BBC lunch on a private beach.
13.30 Continue to discover Ho Ba Ham Islet, the most remote point in Lan Ha Bay, bordering the Gulf of Tonkin. Visit its quaint fishing village and lagoon. Kayaking through an amazing tunnel under a karst mountain depends on the tide. 17.00 your luxury junk cruises through the bay for overnight anchor near Ho Dong Tien. 19:30 Enjoy great seafood dinner.
Day3: discover most untouched areas - highlight of best tours in vietnam
Relax onboard and see the sunrise over Halong Bay. 7:00 Have breakfast. 8:00 Cruise Bai Tu Long bay through hundreds of differently shaped limestone islands. Arrive at Cong Do & Vung Ha, most remote areas of the bay. Kayak through strange limestone islands of different shapes or swim on private beaches - amazing experience on holiday Vietnam.
12:00 Enjoy BBC lunch on a private beach in stunning nature. 13:45 Continue cruising around the Bay. Stop for anchor at 17:45. 19:30 Enjoy delicious dinner. 23:00 The 3rd day ends with great experience why we recommend the top of the best tours in Vietnam(Meals: B/L/D)
Today, start your Halong tour with some coffee and tea at breakfast in the dinning room. 8:40 Cruise Halong Bay to Vung Vieng floating village. Take a seat on a boat rowed by a local girl in traditional costume to discover the daily life of the fishermen. Back to your boat and continue your cruise through untouched areas. 10:30 Have lunch.
11:15 Transfer by tender to the pier. It is time to say good bye to Halong bay. Drive back to your hotel in Hanoi at 16:30. Now, you have fully understood why Halong Bay tours are the top of the best Vietnam holidays(Meals: B/L) Book it now
other Halong Bay tours by private princess cruises:
+ Option 2: 2day halong bay tours by princess cruises
+ Option 3: 3day halong bay tours by princess cruises
+ see details of princess cruises
all vietnam cruises
daily tours in Vietnam
vietnam vacation guide
Vietnam tour packages
Vietnam travel guide