2day Halong bay tours in vietnam luxury travel style
unforgettable moments in your life
(2days/1night - Code: HL-09)
How does Ms Violet highlight Vietnam package tours?
Ms Violet has 6 Ac cabins. They are designed on the focus of ultimate luxury travel style and tourists say that she is absolutely much more better than the quality of any luxury 5star hotel on land. Ms Violet is always surrounded by stunning scenery. Experience the highlight of Vietnam luxury travel.
Commitment to Excellence, Excitement and Satisfaction. If not fully satisfied with Halong bay tours by Ms Violet, take your money back: Limited offers. Book it now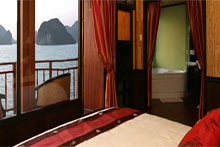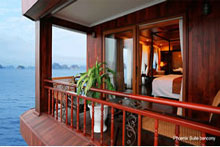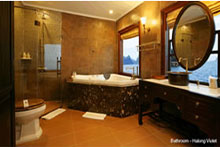 What to bring for Halong bay tours:
+ Passport with valid visa to Vietnam.
+ Camara or video camara.
+ Sun glasses with hat.
+ Swimming clothes.
+ Jackets in winter time.
+ Jackets in winter time.
Note::
+ Boarding time 12:30 pm.
+ Disembark time 11:00 AM.
+ Visa, Master Card, American Express are accepted.
day 1: Hanoi - halong bay
Departure for Halong bay at 8:00. Check in the top luxury Halong bay cruise. Now, experience the new style of Vietnam luxury travel through Halong bay tours by Ms Violet.
Enjoy your wonderful lunch while she is cruising Halong bay through hunders of amazingly shaped islands coming up one after one from green water. Stop at a secluded beach. Climb to Tit Top island for the panoramic view. Walk down for a swim, or recline on Violet's wicker sun loungers o­n our expansivewooden sundeck.
Unbelievable experience on a local fishing village is waiting for you. Visit floating school in the village.
Enjoy kayaking in stunning nature or boarding a bamboo boat to discover water tunnels and pristine coral reef in a scenic lagoon setting. once back to your Halong bay cruise, watch the sunset over Halong bay. Relax and enjoy amazing scenery. The dinner will end the first day of Halong bay tours. Now, get full experience on the new style of Vietnam luxury travel.
day 2: Halong bay - hanoi
Today, your Halong bay tours start with a morning Tai Chi exercise under the sunrise. After breakfast, visit amazing limestone cave. Then back to your Halong cruise for a final glimpse of the Halong Bay while cruising back to the dock.
Drive back to Hanoi. The end of amazing Halong bay tours by Ms Violet. Definitely, you will recommend this Halong bay tour to your friends and that is future profit for us.
Discover the new style of Vietnam luxury tours set by Ms Violet cruise - top of the best Halong Bay tours just one time, remember unique experience all your life. Ms Violet - top of luxury halong bay cruises will make your Vietnam vacations unforgettable.
If not fully satisfied with your Halong bay tours by charming Violet cruises, get your money back. Limited offers for Halong tours. Book it now
2day Halong Bay tour by Violet cruise
Prices quoted in USD nett per person(2 day cruises).
Cabin
Based on twin share
private car/van/bus
2 Persons
1 Person/sgl room
Deluxe
272
upon request
upon request
Suite
313
upon request
upon request
halong bay tours by Violet cruises
halong bay cruises in Vietnam luxury travel style
all vietnam cruises
daily tours in Vietnam
vietnam vacation guide
Vietnam tour packages
Vietnam trip guide